MCIA programs are designed to help clients maximize value in four main areas.

Our Address:
1900 Hendon Ave
Saint Paul MN 55108

Toll Free: 1-800-510-6242
Organic Toll Free: 1-855-213-4461
Phone: 612-625-7766
Fax: 612-625-3748
mncia@mncia.org
Seed Quality Assurance Services
What is Quality Assured seed?
Quality Assured (QA) seed has met standards designed to preserve the purity and identity of a crop variety. Standards, similar to seed certification, enable a company to produce and market seed according to sound quality management practices.
How is seed Quality Assured?
The Quality Assurance process includes field inspections, laboratory testing, audits of production records, and on-site evaluations of conditioning and treatment facilities. Seed meeting all requirements is eligible to be labeled with the AOSCA QA logo.
Who produces Quality Assured seed?
Seed producers of all crop types may utilize a QA program to access a complete service for seed sold as varieties, hybrids, brands, or blends. QA programs can be customized to support an existing quality management system or as part of an AOSCA program.
Why buy Quality Assured seed?
Quality Assured seed provides assurance to seed buyers that the seed is of known purity and quality as verified by an unbiased third party.
What should I look for?
Seed meeting QA standards may bear a Quality Assurance label or be marked with a QA logo. Buyers of bulk quality assured seed may be provided with a QA Bulk Sales Certificate.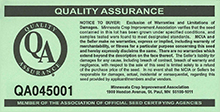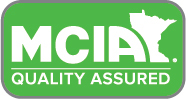 Click here to download an application