MCIA programs are designed to help clients maximize value in four main areas.

Our Address:
1900 Hendon Ave
Saint Paul MN 55108

Toll Free: 1-800-510-6242
Organic Toll Free: 1-855-213-4461
Phone: 612-625-7766
Fax: 612-625-3748
mncia@mncia.org
Sod Quality Assurance Program
What is Quality Assured sod?
The Sod Quality Assurance Program establishes high quality standards for the production and on-going improvement of sod types suitable for installing in challenging environments. The program is a collaborative effort of the Minnesota Turf Association, the University of Minnesota, the Minnesota Department of Transportation (MnDOT) and the Minnesota Crop Improvement Association (MCIA).
How is sod Quality Assured?
To be Quality Assured, sod must meet specific standards, including utilizing approved seed mixes, meeting field requirements, and maintaining required documentation. The program provides third-party assurance to end users to ensure that sod meets specifications and was produced according to rigorous production standards.
Who produces Quality Assured sod?
Quality Assured sod is produced by careful, conscientious sod producers who utilize approved seed mixtures and required sod production practices to meet program standards.
Why utilize Quality Assured sod?
The first sod type available is salt tolerant sod suitable for use along streets, parking areas, and roadsides where saline soil conditions frequently occur. This sod type has been approved by MnDOT and will be required where MnDOT projects specify salt- or shade-tolerant sod. It is anticipated that sod products developed through this program will continually evolve and improve as better suited turf seed varieties become available and are utilized to produce sod.
What should I look for?
A Sod Quality Assurance Certificate must accompany each sod delivery as proof of conformance to program standards.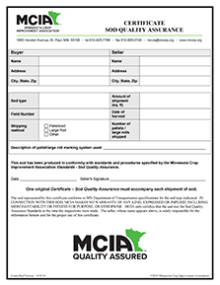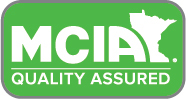 Click here to download an application